Autonomous vehicle report offers a roadmap to Hawaii's transportation future
Dec 08, 2020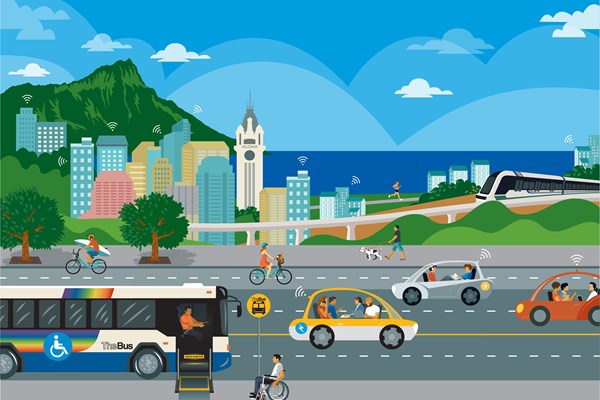 Earlier in 2020, Ulupono Initiative partnered with transportation experts at Mobitye3 (Me3) to produce "A Framework for Hawaii's Autonomous Vehicle Future: Accessible, Automated, Connected, Electric, Shared (A2CES)." Published in May, the report's findings affirmed that a scenario once considered science fiction is quickly becoming a reality in Hawai'i.
Over the next ten years, statewide adoption of the next generation of vehicles in combination with a more integrated multimodal network will allow Hawaii residents – in particular, those living on Oahu – to be able to transition from spending hours commuting on congested highways and freeways to safely riding in autonomous electric cars, buses and transit. 
The A2CES report's critical requirements include that autonomous vehicles (AVs) must be electric and shared. Only then will they realize their full potential to drive renewable energy goals and give those who cannot drive more autonomy through mobility, without contributing to increased traffic by placing more cars – autonomous or not – on the road.
Ground transportation represents an immense opportunity because Hawaii imports approximately one-third more fossil fuels for ground transportation than electricity production. Developing the needed infrastructure to support such a system in this new era in transportation will require the efforts of our state, city and county officials, and business leaders and property owners.
"The adage, 'the best way to predict the future is to create it,' is at the heart of an A2CES," said Katie Rooney, director of transportation policy and programs for Ulupono. "We at Ulupono Initiative encourage the forward-looking network of technology firms, public agencies, investors, nonprofits, and real estate and commercial developers – not to mention folks who are just worn out from the rush-hour grind – to join the movement."  
Read more here about the report's five key strategies for Hawaii to shape its A2CES future:
Confirm the legal framework for AVs' safe operation on public roads, including developing guidance or regulations. 
Adopt policies and initiatives at the state and local levels designed to ensure the public's interest in equitable and environmentally sound travel that is powered by renewable energy and promotes economic vitality. 
Bake A2CES readiness, including electric charging from renewable resources, into public and private sector investments, including rail stations, rail catchment areas, station access, and roadway and multimodal pathways. 
Incorporate AV and electric vehicle considerations into all aspects of planning, public and private, so that the vision of A2CES is recognized and realized through land use, economic development, and transportation planning. 
Launch a program of A2CES-focused technology demonstration projects across modes while also prioritizing projects that expand renewable resources.