Aloha Harvest's food rescue program redistributes nearly 3 million pounds of food in 2021
Feb 25, 2022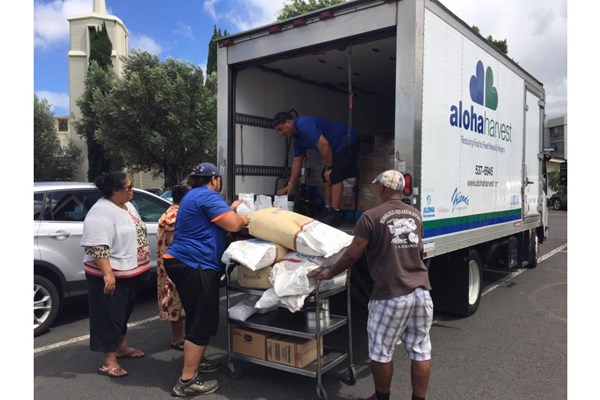 Aloha Harvest reported distributing 2,861,051 pounds of food in 2021, marking a 5% year-over-year increase over its already outstanding 2020 food distribution numbers. Combined with an additional 857,600 pounds of food provided to the nonprofit via the USDA Farmers to Families Food Box program, Aloha Harvest ended the year distributing an inspiring total of 3,813,906 pounds of food to Oahu residents in need.
During the pandemic, Ulupono Initiative, through the Ulupono Fund at Hawaii Community Foundation, awarded $35,000 to Aloha Harvest to aid the nonprofit's efforts to secure healthy, locally produced foods for residents in need.
Founded in 1999, Aloha Harvest is Hawaii's largest food rescue and redistribution organization. Hawaii-based nonprofit organization works with more than 360 donors, including restaurants, hotels, grocery stores, wholesale distributors, and with over 230 recipient organizations, to ensure that individuals and families have access to quality excess food.
In 2020, Aloha Harvest received an initial $20,000 grant from the Ulupono Fund to help the nonprofit purchase specialty foods — such as locally grown Okinawan potatoes, daikon, papaya and pineapple — from local farmers. With food donations from partners such as Foodland, Y. Hata and Co. and Eggs Hawaii, Aloha Harvest was able to rescue and redistribute more than 2.7 million pounds of this nutritious food.
"Aloha Harvest, in 2020, redistributed over 4.1 million pounds of food, purchased over $2.2 million worth of locally sourced food, and hosted 200+ community-based distribution events," said Phil Acosta, executive director of Aloha Harvest. "Through this effort, we served over 50,000 households (approximately 175,000 individuals). This was made possible in part by the contribution from the Ulupono Fund at Hawaii Community Foundation."
As the COVID-19 pandemic continued into 2021, the Ulupono Fund awarded an additional $15,000 to Aloha Harvest to help it fill a crucial funding gap for the Food Resilience Hub feasibility and expansion study, through the Hawaii Alliance for Community Based Economic Development, part of the City and County of Honolulu Office of Economic Recovery Food System program.  
"The outcomes of the study provides us with a blueprint to scale-up existing food rescue operations to mitigate the ongoing economic impact of the Coronavirus pandemic, and develop long-term solutions for strengthening Hawaii's fragile infrastructure," Acosta said. "In 2021, we distributed an additional 3.8 million pounds of food, and out of that, 2,865,301 pounds is rescued excess food. That is the equivalent of 2.2 million meals served, $8 million dollars saved.
Ulupono Initiative values organizations such as Aloha Harvest, which not only work to manage our food waste, but also support local farmers in making sure excess healthy, locally produced foods are available to people in need and not wasted in our landfills.
"We hope to continue our collaboration efforts to meet our shared goals of creating a more resilient and sustainable food system for Hawaii," Acosta added. "We are extremely grateful for the ongoing support and guidance from the team at Ulupono Initiative."
To learn more about Aloha Harvest, please visit AlohaHarvest.org.