Parklinq solution offers a better way to manage parking — all from the convenience of your smartphone
Aug 30, 2021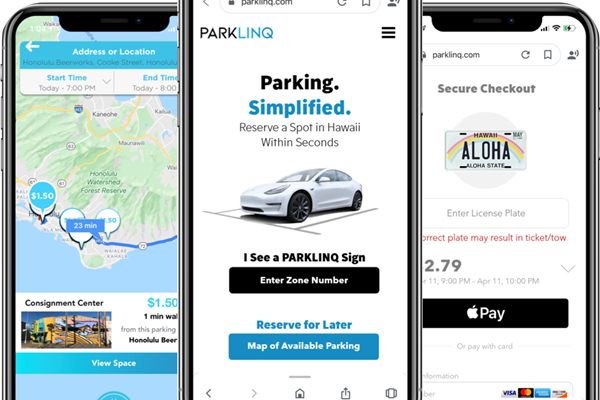 Hawaii's economic recovery is turning out to be a double-edged sword when it comes to parking. As restaurants welcome indoor dining to the degree possible and residents adapt to hybrid or entirely in-person work, automobile traffic on Hawaii's roads is increasing concurrently, once again making the search for available parking challenging.

The positive news? Parklinq, a Hawaii-based company established in October 2020, is making rapid progress in delivering solutions designed to help motorists find available parking by the hour, day or month.

"There are 500,000 available parking spaces in our state even during peak demand periods, but parking may seem like a rare commodity because motorists don't know how to find those spaces," said Tyler Saenz, founder and CEO of Parklinq. "Parking comes at a premium price. Honolulu has the most expensive parking in the world, exceeding prices in San Francisco and Manhattan. We're changing this by helping motorists find convenient, affordable parking within seconds."

Using Parklinq's easy-to-use app, which provides a birds-eye view of a graphical map to pinpoint available parking areas in real-time, Hawaii motorists can find, reserve and pay for a parking space located near their destination in advance. Downloading the app is optional to use it. Motorists can also use their smartphones to scan QR codes posted on Parklinq signage at select parking lots and pay touch-free without having to pump coins into physical parking meters or swipe a credit card.

The app provides added value for users by identifying electric-vehicle charging stations, Biki bike-sharing sites, Servco Hui car-sharing locations, and TheBus stops for connections to multimodal transportation. In addition to all these conveniences, Parklinq offers environmental benefits and traffic management.
"Motorists spend an average of 20 minutes circling around for a parking space," Saenz said. "During those 20 minutes we spend circling, our vehicles emit one pound of carbon emissions. This idle circling also contributes to 35% of urban Honolulu's traffic."
In 2020, with many businesses facing reduced business hours as well as fewer customers and employees using their parking, Parklinq was able to create opportunities for these businesses to turn their vacant stalls into a new revenue stream.
With an ongoing public sense of uncertainty brought on by the COVID-19 Delta variant, the importance of Parklinq's role has expanded. As the state continues to struggle with economic recovery and COVID-19 case numbers fluctuate, some businesses have instituted or extended work-from-home options, or staggered working hours, to limit the number of employees in the office as a prolonged practice. These actions have created additional idle parking spaces businesses can add to Parklinq's inventory to boost their company's bottom line.

It's a business model in which everyone wins. Motorists find the parking spaces they need, businesses and organizations realize income they didn't have previously, and Parklinq derives a percentage from each transaction. Parklinq pays its earnings forward even further by contributing 1% of its revenue toward buying renewable energy or reducing greenhouse gases.
Paid parking statewide currently generates $180 million annually, but Parklinq estimates there is an additional $60 million a year in unrealized parking revenue. As more businesses, organizations and individuals discover they can have a new source of revenue by further utilizing their existing parking, Parklinq's inventory of parking stalls continues to grow. Schools, non-profit organizations and churches are also finding Parklinq a valuable partner for fundraising.
Parking on city streets also has the potential to provide welcome funding for the City and County of Honolulu as an alternative to increasing taxes. Parking on privately-owned streets can deliver desirable income to bring streets up to code and put toward street repairs and maintenance.
For more information, visit parklinq.com.