Rethinking Your Holiday Waste
Dec 20, 2021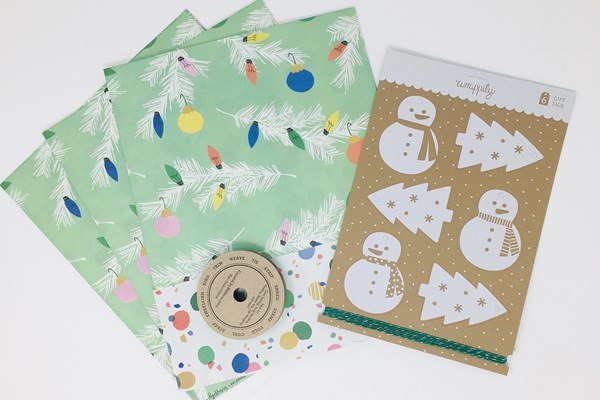 PHOTO: Wrappily Holiday Special Wrapping Paper Bundle
The holidays are a time for family gatherings and celebrating traditions — an opportunity to reflect, give thanks, exchange gifts, and enjoy dinner with loved ones and special friends. Families throughout Hawaii welcome experiencing the simple joys they have missed due to the pandemic.
As we continue to prepare for the holidays, we at Ulupono Initiative wanted to share creative and ecologically minded ways to have a happy, more sustainable holiday season.
Wrapping Paper Remix
Wrapping paper tends to be a single-use item and often, due to dyes and lamination, cannot be recycled. Fortunately, there are alternatives that are more environmentally friendly.
For example, a locally owned company on Maui called Wrappily produces beautifully crafted, "Hawaii-inspired" wrapping paper from recycled newsprint using soy-based inks for its designs. This recycled wrapping paper can be reused multiple times. 
Experiential Gifts 
Giving enjoyment of a special experience is a gift that everyone would welcome. These togetherness type of gifts could be gift cards for that special someone's favorite local restaurant, movie passes, unique activities, massage or spa days, or tickets to a local performance. Many of these companies, significantly impacted by pandemic restrictions, would welcome and appreciate business from kamaaina.
If you're feeling creative, you can make your own personalized gift cards for loved ones, which may include sharing your special talents. Examples of personalized gifts could be cooking dinner or offering free piano lessons — activities that would shape lasting memories into 2022. 
Sending eCards 
eCards are a great idea for folks looking for a greener way to send season's greetings to loved ones near and far. Plus, eCards can be reloaded, making them a gift that keeps on giving throughout the year for special occasions or just to say thank you. Be sure to seek out local companies to help community businesses and to keep the dollars circulating in Hawaii.
Creative Christmas Trees
It may come as a surprise, but reusable plastic trees are not as sustainable as many may think. This is because plastic does not remove carbon from our atmosphere, so we suggest several alternatives. 
Potted "Christmas" trees present you with the opportunity to use the same tree year after year — and create a new family tradition. 
The tree doesn't necessarily need to be the traditional Douglas type of pines, and, frankly, any type of plant that carries special meaning for a family will do. Other creative alternatives, popular among pet owners, are hanging decorations from the ceiling, or the wall, in the shape of a tree or making wooden Christmas trees like those seen on Pinterest.
If you do purchase a traditional Christmas tree, please be sure to dispose of it properly at one of the following drop-off convenience centers.
Giving Gifts that Help Others
Tis' the season of giving to help others, so please consider donating excess canned or unopened food to your local food bank or food pantry. For example, the Hawaii Foodbank may have a convenient drop-off site right in your neighborhood. 
Many take advantage of time off over the Holidays to complete home maintenance and renovation projects. Donating building materials, such as those from recent renovations, can be made to Reuse Hawaii. This local nonprofit organization, with locations on Oahu in Kakaako, and Hawaii Island in Kailua-Kona, is a "do-it-yourselfers" paradise. Surplus wood, appliances, and ordainments fill its spacious redistribution centers, providing needed materials for any budget-conscious home project. Click here for a list of accepted materials.
Creating a more sustainable Hawaii is everyone's responsibility. If we all do our part, we can make leaps and bounds toward reducing our carbon footprint and reduce the need to use our precious land resources for landfills.