Report explores community-led approach to renewable energy
Jan 20, 2023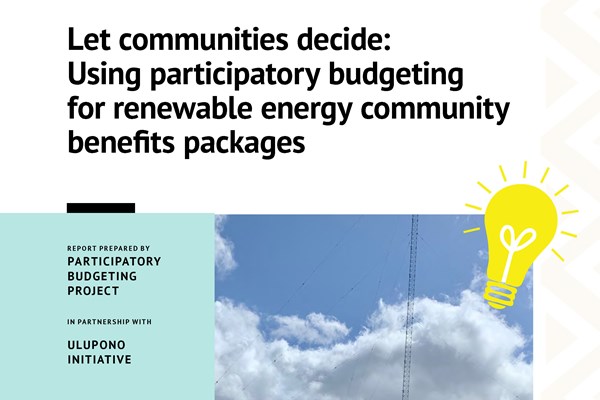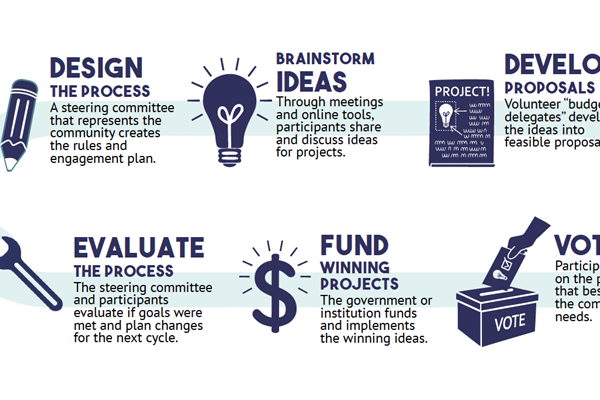 FOR IMMEDIATE RELEASE
HONOLULU — The Participatory Budgeting Project, in partnership with Ulupono Initiative, today released a report titled, "Let communities decide: Using participatory budgeting for renewable energy community benefits packages."
A participatory budgeting (PB) framework provides the opportunity for more inclusive conversations and decision-making around community benefits as part of renewable energy projects, particularly for those communities most impacted by such projects. These benefits may include grants, sponsorships, educational and cultural initiatives, and more. PB can also bring transparency to spending decisions, with greater opportunity for communities to build relationships and trust with local government and developers.  
"It's not a question of whether Hawai'i's communities will or will not have a say in our state's clean energy future — they will demand it," said Leo Asuncion, chairperson of the Hawai'i Public Utilities Commission, in the report's introduction. "This report explores 'participatory budgeting' as a community-led approach to renewable energy community benefits … decided not solely by the developer or elected officials, but with full involvement of the communities affected by the development."
In 2022, Hawaiian Electric, the electric utility for O'ahu, Maui, and Hawai'i Island, initiated a competitive solicitation to procure utility-scale renewable energy for each of the islands. One of the RFP's requirements is that developers set aside money to invest in the communities in which they build. Despite finalizing this requirement, there is no formal process for identifying community needs or allocating funding. Developers currently have the option to directly fund community-identified projects or select a nonprofit organization to administer and distribute the community benefits package, but neither of these options provide a clear blueprint for centering the needs of impacted community members in how funds are allocated.
"The heart of PB is a clear, proven process for community members and other stakeholders to follow," said Murray Clay, Ulupono Initiative president. "PB provides a practical model for sharing real decision-making power with the people most impacted by a project in their community."
"As Hawai'i gears up to lead the way toward the ambitious renewable energy goals we need in the U.S., it also has the opportunity to do it in a way that centers the needs of the people who will be most impacted by developments," said Ingrid Haftel, Participatory Budgeting Project's director of community education. "Having supported hundreds of participatory budgeting processes across the country, we know that letting community members decide how to spend community benefits funds will lead to more equitable and effective investments."
Participatory Budgeting Project's report lays the groundwork for PB, including integrating PB into the RFP process, conducting community-led needs assessments, identifying a manager and key stakeholders, and deciding how to structure the PB process. The report also outlines next steps advocates and organizers can take to champion and lay the groundwork for using PB to decide how to allocate community benefits packages.
Read: Participatory Budgeting Project's report
About The Participatory Budgeting Project
The Participatory Budgeting Project (PBP) is a nonprofit organization that collaboratively
transforms democracy to center community power. Since 2009, PBP has supported dozens of governments, public institutions, and organizations in launching and deepening participatory budgeting processes. For more information, visit www.participatorybudgeting.org.
About Ulupono Initiative
A mission-driven venture of The Omidyar Group, Ulupono Initiative was founded in 2009 and strives to improve the quality of life for the people of Hawai'i by working toward sustainable solutions that support and promote locally produced food, renewable energy, clean transportation, and better management of freshwater resources. For more information, visit www.ulupono.com or connect with Ulupono on Twitter, Facebook, Instagram and LinkedIn.