Farmers' markets and direct sales offer lifeline for Oahu's only mushroom farm
May 12, 2020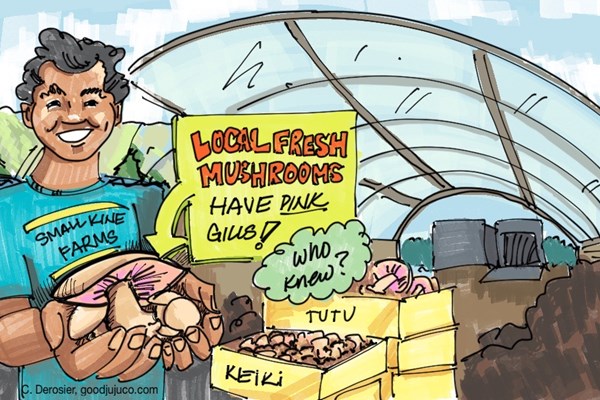 Our weekly series continues, talking story with local farmers, ranchers, and other food producers about their crucial efforts to sustain our communities during the coronavirus pandemic.
A conversation with
Fung Yang, Founder & President of Small Kine Farm
By Dani Douglass and Keith DeMello
Producing USDA-certified organic Portabella mushrooms was going extremely well for Small Kine Farmspresident Fung Yang and his staff of four. Established in 2009, this Waimanalo-based farm has been successfully supplying many of Oahu's top restaurants and supermarkets with its keiki (Crimini) and tutu (large Portabella) mushrooms for the past decade. Not only is the company the sole Portabella farm in the state, but it also holds the distinction of being the first in the country to utilize local, green waste material to produce the mushrooms. 
Like many others affected by the coronavirus pandemic, Yang has been struggling to keep the business afloat. When Hawaii restaurants closed in March, 70-80% of the farm's sales suddenly evaporated.
Small Kine Farm implements multiple strategies to keep its mission alive.
Another layer of complexity arose with the disruption of imported services from the continental United States, which rendered the supply chain unreliable. "The process is interrupted, so we don't get supplies in a timely manner," Yang explained.
Yang had to shift his daily responsibilities dramatically and get creative about how to position his product in front of consumers — all while working to keep his staff employed through the crisis. As Yang grappled with the immediate health and economic realities, he pivoted his long-term projections and outlooks for the business. His typical planning horizon was 1-5 years pre-COVID. Now it's focused on getting through the next 30 days.
Early on, he called a meeting to focus his team's efforts around a set of common goals that would help inform their next steps. Three priorities emerged:
Look to the team. What could they sell themselves? This required expediting the launch of an online payment process via www.smallkinefarm.com — which they did in just seven days — as well as establishing a process for phone orders and deliveries.
Look to the extended ohana. What could be distributed to friends and family? The team also made sure none were in danger of going hungry. Mushrooms are full of protein, after all, with plenty of minerals, and are even considered a "superfood."
Look to the community. The farm worked to expand its existing partnerships with 808 Organics, Farm Link Hawaii, FarmLovers Market, Oahu Fresh, and Waihuena Farm. This leveraged a wide range of distribution networks, from farmers' markets to community-sourced agriculture (CSA) bag deliveries.
Although the road has been bumpy, Yang acknowledged that the community, like his team, is facing this challenge together. Thankfully, due to its responsiveness, adaptability, and collaborative networking efforts, the farm has since been able to maintain 60-70% of its pre-COVID mushroom sales. While these numbers are not back to normal, they allow Yang to keep his business open, for which he feels incredibly fortunate.
In addition, farmers' markets have been and remain vital to many farms' survival. Yang expressed sincere appreciation for FarmLovers Market and the Hawaii Farm Bureau for keeping farmers' markets open and helping them adapt to the necessary social distancing requirements.
"Farmers' markets are critical to us," Yang said. "We need them to stay open; they represent about 20% of our sales."
Currently, Yang said his main strategy  is getting the product directly to the consumer while continuing to grow his network through farmers' markets and establishing direct sales to supermarkets.
He also observed that the pandemic has shined a very bright light on the importance of local food production to Hawaii's overall resiliency, particularly in a crisis.
"As a state, we need to reconsider relying on others outside Hawaii for our food," he said. "We can't rely on other people to import our food when we have a problem." The solution is right in our backyard.