Better Block Hawaii Debuts First Kalihi Parklet at Richie's Drive Inn to Support Businesses, Enhance Safety and Create Vibrant Public Spaces
Nov 11, 2021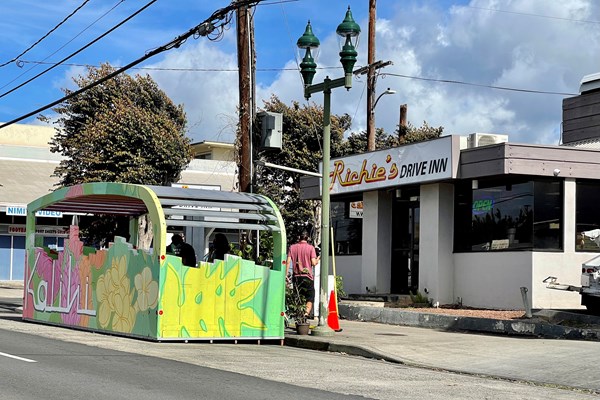 FOR IMMEDIATE RELEASE
HONOLULU — Richie's Drive Inn in the heart of Kalihi, long known for its breakfast combos and daily mixed plate specials, received a new addition to attract more customers today: a newly assembled parklet in front of the food establishment at 1188 N. King St.
After months of planning that included securing the necessary renewable permits to use the street parking space in front of the drive inn, the new parklet was installed this morning and is now ready for the public to enjoy.
Hawaii's first parklets were installed in Kakaako and then Kaimuki as a way to provide safe, outdoor dining spaces for food establishments that had difficulty complying with physical distancing because of limited in-dining capacity. The parklets provided a welcome boost to revenues, while also creating cozy, inviting gathering places that served as extensions of business storefronts.
The Kalihi parklet, which features a mural by artist Boz Schurr, was a collaborative community effort. The project was spearheaded by Better Block Hawaii, with design and construction support provided by Re-use Hawaii. AARP Hawaii provided a $10,000 AARP Livable Communities Community Challenge Grant and Ulupono Initiative matched this with an additional $10,000.
This is the first of two parklets planned so far for Kalihi. The locations are based on community input. Businesses such as Richie's Drive Inn determine how the parklets are used, such as seating for outdoor dining or game tables. The parklets also serve as a way to bring the community together by providing opportunities for volunteers to help with building and painting the parklet.
"We are working with the community to strategically place the parklets throughout the neighborhood to support local businesses and provide additional usable outdoor space for people to safely gather," said Daniel Simonich, co-founder and board member of Better Block Hawaii. "The parklets also serve as traffic calming interventions in an area that has historically had a high number of pedestrian accidents in the past. These parklets will complement the other street art and tree planting projects in the neighborhood."
"This is something we could really get behind. Better Block Hawaii is supporting our economic recovery from the pandemic, making this part of Kalihi a little brighter for everyone, from keiki to kupuna, and providing outdoor dining in this neighborhood," said Kealii Lopez, AARP Hawaii state director. "We encourage people to join us by volunteering and supporting organizations like Better Block Hawaii that are improving Hawaii one neighborhood at a time."

Ulupono Initiative, which invests in and partners with innovative organizations that are creating positive change in the islands, also supported this effort.
"It's exciting to see another neighborhood reimagining public spaces and helping to prioritize people over parking," said Kathleen Rooney, director of transportation policy and programs for Ulupono Initiative. "The parklets make streets and communities more livable and safer, and lay the groundwork for multi-modal transportation for the adoption of clean transportation."
The parklets offer other environmental and cultural benefits. Re-use Hawaii constructs each parklet almost entirely from salvaged construction materials, diverting waste from going to Oahu's limited landfill. As one of Honolulu's most ethnically diverse and immigrant neighborhoods, Kalihi has a unique cultural and historical identity and local artists will paint the parklets with designs that capture that sense of place. In addition, by providing shade, the parklets also provide public respite from the heat.
This is the fifth consecutive year that AARP has issued a community challenge and more than 3,500 applications were received in the latest call for entries. AARP disbursed nearly $3.2 million for 244 quick-action projects in urban, rural and suburban communities in all 50 states, Washington, D.C., Puerto Rico and the U.S. Virgin Islands.

Better Block Hawaii was one of seven nonprofits in Hawaii to receive an AARP Livable Communities Community Challenge Grant intended to help improve public spaces, transportation, housing and civic engagement with an emphasis on the needs of people 50 or older. Many of this year's grants supported revitalizing communities adversely impacted by the pandemic and included a focus on diversity, inclusion and disparities.
Applications for next year's grants will be accepted in February 2022. For more information regarding the Community Challenge Grants, visit: https://www.aarp.org/livable-communities/community-challenge/